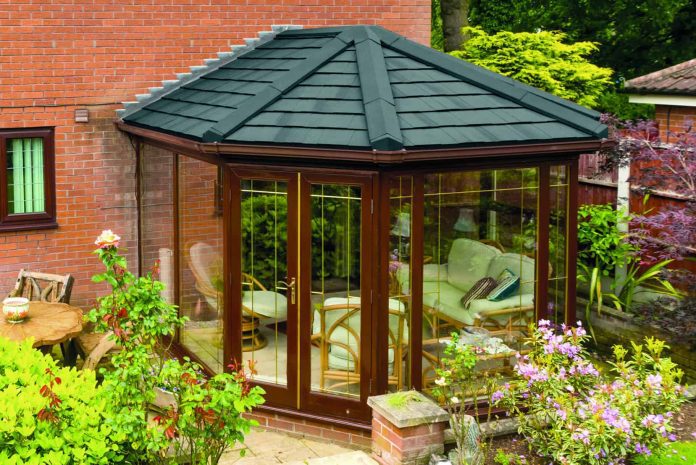 If you love your conservatory, but it's not really an all year round space because it overheats in the summer or feels cold and unusable in winter, you may need to consider changing it.
A bespoke tiled conservatory roof offers all year round insulation, and you can choose from a variety of tiles to suit your home.
Insulation
A conservatory with solid roof will offer a whole new living space that is usable throughout the year. The roof provides insulation against the elements and will eliminate draughts and leaks that can plague old polycarbonate conservatories.
The modern insulated roofs available from Ultraroof and Metrotile are very thermally efficient and will save you money on energy bills. They will also reduce environmental noise from outside and provide a better level of comfort for you and your family.
A common misconception about conservatory roof replacements is that you won't get any natural light into the room but this really isn't the case as a lot of light will still come in through your windows and doors. A modern tiled conservatory roof will allow you to have internal ceiling lights and can be fitted with Velux windows too. Our hybrid Livinroof product combines the best of solid and glass roofs and is suitable for all conservatory styles including Victorian, Edwardian, Gable, Lean-To, P-shaped and T-shaped conservatories.
Durability
A solid roof is a long-lasting solution to your conservatory, providing insulation that lasts far longer than glass or polycarbonate roofing. It will keep heat in the winter and reduce glare in the summer, keeping your room a pleasant temperature all year round.
With a high level of insulation, a solid roof will also reduce noise levels and help to keep your conservatory at a constant temperature so it can be used all year round. This could increase the value of your home and allow you to enjoy the extra space for more than just a few months each year.
You don't need planning permission to replace your conservatory roof, but you must make sure that the existing framework can support the new solid or tiled roof. An experienced company will be able to inspect your current conservatory and advise how it can be strengthened or supported to accommodate the new roof. This process is usually much quicker and cheaper than demolishing the entire structure and starting again.
Lightweight
A traditional tiled roof will add significant weight to the conservatory – up to seven times more than glass or polycarbonate. This means that existing frames may need additional reinforcement to take the new weight, which can add cost.
Lightweight tiles are available in a wide range of styles and colours, so you can create a beautiful new ceiling to suit your style and complement your home. Tiles also provide good durability and don't require much maintenance to keep them looking their best.
Changing the roof of a conservatory isn't as complicated as it seems, but you will need to check with your local council to see if you need planning permission for your project. If you do, your building control officer will help ensure that the work you carry out complies with the regulations. They can also give advice on making sure that your new conservatory is safe and watertight from the start of construction.
Aesthetics
Solid roofs offer a subtle aesthetic that can perfectly complement any conservatory style. They are also available in a range of modern colours, ensuring that they will suit any home here in Surrey and Sutton.
The additional roof layers that a solid conservatory roof offers ensures that the space is cosy in winter and cool in summer. This efficient temperature regulation can help to reduce heating and cooling costs, resulting in savings for homeowners.
Another benefit of a conservatory with a solid roof is that it will provide natural light. This will enable the extension to be used at any time of year and can make it feel like a new room.
Many people believe that they will not get enough natural light with a solid conservatory roof, but this is simply untrue. There are plenty of options that can be fitted to the roof, including roof lanterns. This is a great option for those who want to add natural light to their conservatory while minimising heat loss.