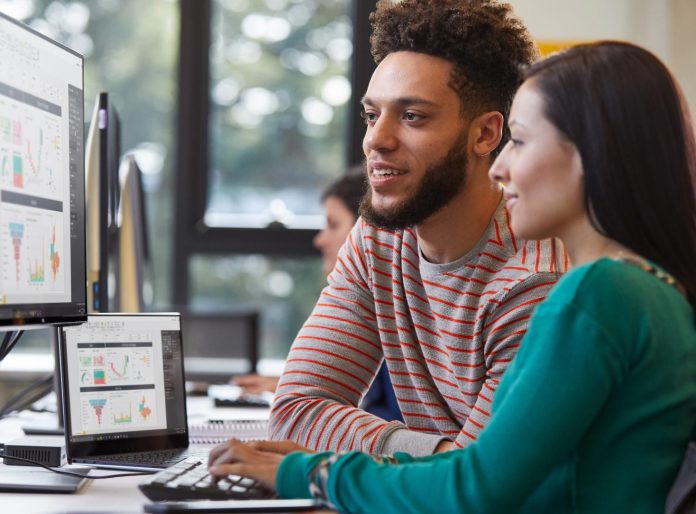 Microsoft Power BI is a robust analytics solution that can be used to view your data in a dashboard or create stunning interactive reports.
Learn new skills with Power BI training and bring your data to life. Our hands-on guided learning approach helps you meet your goals quickly.
Basics of Power BI
Microsoft Power BI is a powerful cloud-based data visualization and business intelligence solution. It allows users to create interactive dashboards and reports based on raw data from various sources.
It combines data modeling, BI reporting and analysis with machine learning to deliver insights into your organization's business performance. It can be used by data scientists, business analysts, business managers and executives to make smarter decisions.
Power BI supports self-service data prep, which means users can prepare and cleanse data before generating reports with a variety of visualizations. This saves time and resources by eliminating the need to re-key data or manually prepare it for presentation.
The Power BI service also refreshes datasets automatically at regular intervals to provide up-to-date reports. This allows for a faster and more secure delivery of reports to users.
Visualizations
Visualizations are the basic building blocks of any Business Intelligence tool and Power BI comes with a variety of options. You can add shapes, images, or text boxes to your visualizations to present information in an interesting way.
Line charts, column charts, bar charts, and bubble charts are the standard choices of visualizations for displaying data. They are designed to display numerical values over time or compare the values of different groups.
The matrix is another powerful tool when cross-highlighting fields of data with each other to determine totals and subtotals. It can also be used to show how sales vary by region and quarter.
Data Modeling
Data modeling is an important part of Power BI and is essential for developing reports. Proper data modeling allows you to create a holistic view of your business data and answer complex questions with ease.
A data model is a set of abstract data that defines the structure, properties and relationship between different entities. It also defines the way in which they can be accessed.
A data model can be of various types based on the shape and properties. Some of the common types are Hierarchical Model, Relational Model, Network Model and Entity-Relationship Model.
Power Query
Power Query is a data analysis tool that allows you to connect to various sources of data such as a web page, CSV, text file or multiple workbooks. Then it allows you to transform and clean the data.
It is a point and click application that lets you do data transformation, merging and appending with ease. And when you need to update your data at a regular basis, just press a button and Power Query gets the new data, cleans it up exactly like the last time and adds it to your table or Power Pivot model for you!
These tasks can be repetitive and onerous to do manually. Power Query makes these tasks easy by recording the steps you perform, so you can do them again and again without having to remember formulas or VBA codes.
Data Transformations
Data transformations make it simpler to understand and organize large quantities of data. They also improve the quality of data for use in analytics and business intelligence.
They can be constructive (adding, copying, and replicating), destructive (deleting fields and records), aesthetic (standardizing salutations or street names), or structural (renaming, moving, and combining columns in a database).
Data analysts, engineers, and data scientists implement a variety of transformations through ETL tools. They include data type conversions, formatting for compatibility with analytics systems, and a variety of other operations that shape raw data.