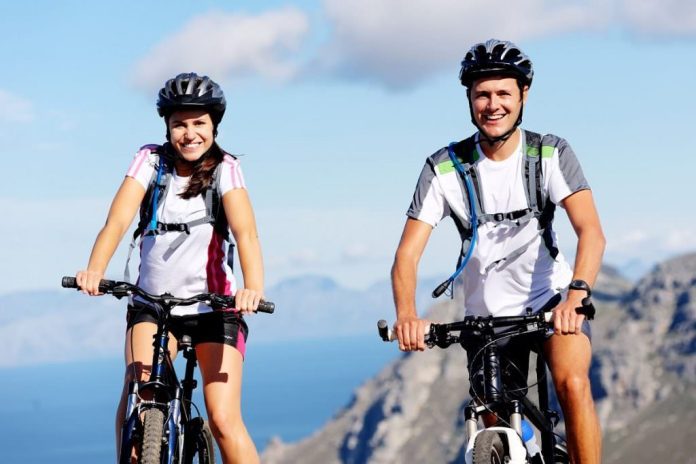 Cycling is a fantastic, fun and rewarding exercise. It increases stamina, strength and aerobic fitness and can be as intense or as low-impact as you want.
Give your favourite cyclist a present that will help them get the most out of their bike with this gel seat pad. It will keep them comfortable on the saddle and is easy to install.
POC Helmet
Buying a helmet is always a good idea for cyclists and especially ones who ride on the road. This POC helmet is not only light but looks sleek and stylish as well.
The patented SPIN system is similar to MIPS and helps reduce rotational forces that could hit the brain in the event of an accident. It's also encapsulated in the EPS foam architecture, unlike MIPS which is only in the shell.
The Lite is the lightest version of this helmet and features a stripped down retention system that uses nylon string (similar to a headband) that's anchored to the EPS foam liner. It's less bulky than other straps and never gets tangled. Plus, it's easier to adjust on the fly. It also has a wide buckle where the straps meet below the ears to provide more support. It also has a visor that's adjustable and can be raised to avoid the sun. It even has a hole for a light.
CamelBak Insulated Water Bottle
If you're looking for a water bottle that will keep your drinks cold for a long time, this one is for you. It has double-walled construction and is made of stainless steel. It comes with a self-sealing Jet Valve, which makes it unnecessary to open and close the cap with each drink. It also has a mud cap that keeps trail grit out of your mouth.
Camelbak offers a wide range of water bottles and hydration bladders for different activities. Their products are backed by an impressive warranty and are designed with sustainability in mind. Their products are available in many colors and designs, making it easy to find a bottle that will suit your taste.
This bottle is great for kids because it has a bite valve that prevents spills and allows you to drink through the straw without tilting or tipping. It's BPA-free and uses a TruTaste polypropylene, which ensures that your water won't have that plasticy taste. Its cap was designed with cleaning in mind and disassembles into multiple parts for easy clean-up.
Lonely Planet Cycling Book
For the cycling fanatic in your life, this is a great gift for those days they can't get out on their bike. This colourful book from renowned cartoonist Dave Walker applauds men and their bikes in all their forms – from professional racers to local bike owners, sportives and those who simply enjoy riding for fun.
A luxury coffee table book that's perfect for those who take their mountain biking seriously. This stunning book showcases the best of Europe's most famous mountain climbs, combining spectacular photos with personal recollections from the likes of Greg LeMond, Lizzie Deignan and Geraint Thomas.
A gift for the biker who loves to travel. These durable and lightweight baskets will allow them to transport all their gear whilst riding, meaning they can spend more time exploring the countryside. Plus, with a variety of fun designs to choose from, they'll be sure to make their friends jealous.
Sunglasses
Whether or not they ride outdoors, any cycling enthusiast will appreciate a quality pair of sunglasses. These protective eyewear pieces are a fun fashion accessory and are available in a wide variety of styles, colors, and materials. Lenses can be made of glass or plastic, and they can include coatings like polarization to reduce glare and UV protection.
This compact multitool is a great gift for any cyclist who loves to travel light. It includes a small set of tools, including 3 and 4 hex wrenches, a tire lever, two spoke wrenches, and a chain tool.
If you're shopping for a serious biker, consider a recovery drink designed to help with muscle rebuilding and recovery after a long ride. Science in Sport's recovery drinks contain a blend of proteins, carbs, and other nutrients that are easy on the stomach. They're available in a number of tasty flavors.cycling gifts